You might say that I grew up in the backyard of this love story. I was born on Main Street, Greeneville, Tennessee. This happened to be on the opposite end of the street to this couple's home. My first home looked into the backyard of this couple's home. So I grew up visiting their home which is now a Historical Site and I heard their story from their decendants.


Andrew Johnson was born on December 29, 1808, into poverty. His parents were illiterate tavern servants. Andrew's father died when he was three years old. He became a tailor's apprentice at the age of 14. At 17 he moved to Greeneville, Tennessee. He met Eliza McCardle, who though being the daughter of immigrant shoemakers was sent to Rhea (pronounced ray) Academy where she learned to read and write. In 1827 they were married. Eliza taught Andrew to read, write, and to do simple math—encourging his speaking ability and his interest in local politics. She helped prepare his speeches and managed their investments and real estate.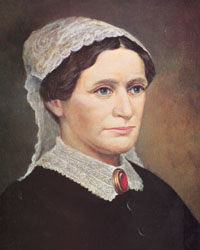 As Andrew rose in local politics, the country was about to enter into the war that would divide the nation. When Abraham Lincoln was assissinated it was Andrew Johnson who would take over the presidency. Eliza could be heard telling reporters "I am an invalid," however, those in the White House knew that even though physically the war had worn her down, her mind was as sharp as ever. Colonel Crook described Eliza "as a woman of far more than usual power... but absolutely inflexible when it came to a matter of principal." Their marriage "seemed as two souls and minds merged as one" was a statement heard by an observer at the time.
When Andrew was brought up on impeachment charges she stood steadfast with him. He was tried by the Senate in the spring of 1868 and aquitted by one vote, Eliza's response was "I knew he'd be aquitted, I knew it." They returned to Tennessee where he was voted to the Senate in 1875. Andrew died a few months later. Eliza would die just six months after that.
Andrew achieved the highest office in our country, rising from an illiterate tailor to the presidency. He could not have achieved this without a strong wife by his side. As we hold presidental elections this year, I wonder if we wouldn't be better off with a tailor who has character than with lawyers and professional politicians.